Remember Henry? Now he's a 7 year old commercial star.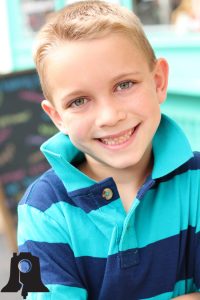 Right now, if you take a look at our portfolio of young performers, you might see someone famous. Now "famous" can be a pretty subjective word, but what if we told you there was someone that was on national TV commercials during the World Cup and NBA Playoffs?  Well, there is.  A talented young boy named Henry Gagliardi has been shooting with Descano Photography for the past two and a half years, coming in for three separate photo shoots altogether with his dad Dominic. Oh, and he's seven years old. Needless to say, Henry is a total natural in front of the camera (most kids are, believe it or not, as they tend to be the most relaxed! Parents on the other hand….)
We recently spotted what looked like Henry on a Charles Schwab commercial, so we thought it was a good time to check in again with his dad to see if we were dreaming. He wrote back:
Yes, that was Henry you saw on television. We are certain that he's been getting more auditions and for bigger parts due, in no small part, to your amazing headshots. Since you photographed him a couple months ago, he filmed the spot you saw for Charles Schwab, a PPL commercial and will even be filming a part in Judd Apatow's next movie, "Trainwreck", in July.
As he's finally beginning to lose his baby teeth, I imagine it won't be too long before you see us again.
I hope all is well and thank you!
Dominic
Something tells us we'll be seeing him in a ton of things in the future. Wishing the best of luck to Henry, but frankly he doesn't need luck.